Home

/

3M Speedglas 9100XXi FX Air Helmet with HD Adflo PAPR
3M Speedglas 9100XXi FX Air Helmet with HD Adflo PAPR
Price:
$2,489.03 excl GST
Stock Level:
Product currently out of stock, please contact us for availability
Upgrade to the Speedglas G5-01TW today!
The 3M Speedglas G5-01TW is the NEW and improved version of the 9100 FX Air and has been launched to make the best even better. The 3M Speedglas G5-01TW is a feature-packed, upgraded version of the hugely popular 3M Speedglas 9100 FX Air, with a stack of new technology.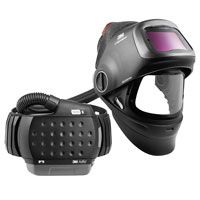 Key features that the G5-01 TW offers over and above the award winning Speedglas 9100 FX Air:
• Larger viewing area with superior optical quality
• 15% larger grinding visor
• 50% longer battery run time (Adflo PAPR)
• Airflow climate control
• Removable welding visor – reduces weight by 35%
• Improved ergonomics, comfort and balance
• Bluetooth technology and much more…
Need further information or advice? Contact the experts at Alphaweld on (08) 9456 8000 or email sales@alphaweld.com.au.
---
Care & Maintenance Tips
• 3M Speedglas 9100XXi FX Air
• 3M Adflo Powered Air Respirator (PAPR)
---
Description
Listing updated: 29 March 2023
Details
Brand:

Speedglas

Web Type:

Speedglas Helmets

Unit/Pack:

EA

Pack Qty:

1