Latest Updates from Alphaweld
---
1 December 2023
Christmas & New Year Trading Hours
As we near the end of 2023 we would like to make you aware of our key closure dates and cut-offs for placing of orders.
Alphaweld Supply Group will be closed from Friday 22 December to Monday 1 January, and will reopen on Tuesday 2 January 2024.
Should you wish to arrange a pick up or delivery before this period, we ask that your order be placed with us by no later than Wednesday 20 December, 5.00pm. Orders received following this date will be processed upon our reopening.
As a reminder, you can always reach us by calling (08) 9456 8000 or emailing sales@alphaweld.com.au. For account related matters, our Accounts department can be reached on (08) 9456 8014 or via email at accounts@alphaweld.com.au.
From all of us at Alphaweld, we wish you a pleasant festive season and all the very best for 2024!
With thanks,
The Alphaweld Team
---
19 October 2023
Alphaweld awarded 'Company of the Year' at Weld Australia 2023 Welding Excellence Awards

Craftsmanship, quality and professionalism were front and centre on Wednesday 18 October, with the winners of the 2023 Western Australia Welding Excellence Awards announced in Perth.
Alphaweld Supply Group was proud to be awarded WINNER of this year's Company of the Year (Supplier) by Weld Australia, the peak body representing the welding industry in Australia.
The award recognises superior performance across a range of business metrics including: innovation, quality assurance, corporate social responsibility, health and safety, and training and development of employees.
Weld Australia's Excellence Awards are the most prestigious event on the welding industry calendar. The Awards showcase and celebrate the world-class work being undertaken by local welders, fabricators and industry educators.
Click here to read more
---
26 June 2023
Annual stocktake closure - 29 & 30 June

Please be advised that Alphaweld Supply Group will be closed for its annual stocktake on Thursday 29 & Friday 30 June.

To ensure the timely receipt of orders around this time we ask that orders are placed with us by no later than 12.00pm, Wednesday 28 June.

During the two-day stocktake our phone service will remain unattended however should you have an urgent request, please leave a voice message and a member of our team will respond back to you as soon as possible.

As always, we encourage all customers to use our website for an easy online ordering experience including FREE delivery for certain spends and above. See here for details.

The Alphaweld Team
---
7 July 2022
All-new Unimig RAZOR 200 arrives at Alphaweld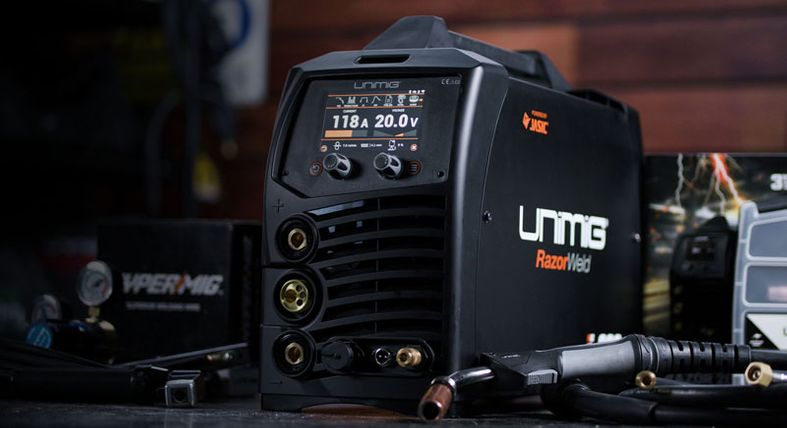 The all-new RAZOR 200 PULSE has arrived.
Whether it's MIG, pulse MIG, double pulse MIG, High Frequency TIG, pulse TIG or STICK – you name it, the RAZOR 200 PULSE can handle it.
Key features:
Single & Double Pulse MIG -

reduces the heat and minimises spatter, without compromising penetration

100+ Synergic Programs - simply select your metal, wire size, and gas, and you're good to go

5" LCD Touch Screen - large touch screen display that is clear, with an easy to navigate interface

Digital MIG Torch - adjust your amps, current and voltage right on the MIG torch itself


Find out more - Unimig Razor 200 Pulse MIG/TIG/Stick Welder
---
18 October 2021
Next generation Powermax SYNC air plasma systems




Alphaweld Supply Group is excited to introduce the revolutionary Powermax SYNC series to its premium stock range

.
Powermax SYNC™ series, the next generation of Powermax65®/85/105 systems, is unlike any plasma you've seen before. Featuring built-in intelligence and a revolutionary single-piece cartridge consumable, Powermax SYNC simplifies system operation, streamlines consumable inventory, lowers operating costs, and maximises performance.
Easy to use
Easy-to-identify single-piece cartridge consumables are color‑coded by process to eliminate confusion and simplify consumable inventory management.

New SmartSYNC™ torches with the Hypertherm cartridge automatically set the correct amperage and operating mode, eliminating setup errors.
Productivity gains
Convenient hand torch controls let you adjust amperage and switch cartridges without returning to the system.

Simplified operation minimises downtime, troubleshooting, waste, and training time.

Each cartridge has been designed to optimise the cutting or gouging process for the best possible performance.
Innovative smart system
End-of-life detection lets the operator know when it's time to change the cartridge.

Advanced torch communication for automated process setup and amperage adjustment, without returning to the power supply.
Cartridge performance data
Wireless access to cartridge data for performance tracking and analysing usage patterns.

Available cartridge reader accessory pairs with Powermax SYNC smartphone app to analyse performance data such as starts, transfers, and arc-on time.

Shop Online Now - Hypertherm Powermax65/85/105 SYNC
---
Interested in finding out more or receiving a free product demonstration? Contact us on (08) 9456 8000 or email sales@alphaweld.com.au to connect with our friendly sales team.